Core Ethernet LAN (CELAN)
---
When it comes to superfast broadband, meet the needs of your business clients with Ethernet technology
Core Ethernet LAN (CELAN) is an Ethernet data transfer service, which guarantees a better network performance to your business clients. It includes a superfast broadband connection, and level 2 Ethernet or level 3 IP and internet services.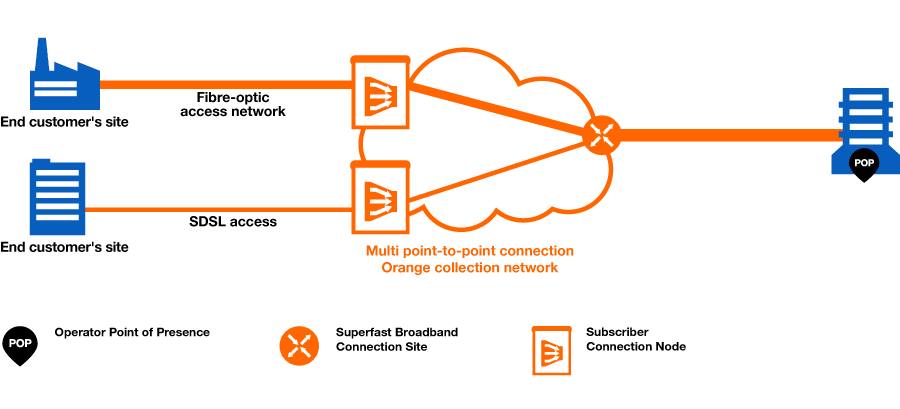 Benefit from Orange's standard optical network, covering over 6000 French municipalities.
Take advantage of our solid technical foundation in order to provide IP and internet services to businesses of any size.
Collect business flows from 0.5 Mbit/s to 1 Gbit/s on a regional or national level.
Optimise your SDSL bandwidth using the Ethernet in the First Mile (EFM) protocol.
Benefit from a point-to-point solution with end customer delivery over a unique Virtual Local Area Network (VLAN) and a connection that maintains the isolation of flows between end customers.
You can view the reference offer in capacity services along with the appendices, consisting of the price list, copper access zoning, and fibre access zoning, at Orange.com. (opens in a new window)
Your needs
Do you want to mobilise your clients from across the area with copper and fibre accesses?
With Core Ethernet LAN (CELAN), you can mobilise your business clients with copper access throughputs ranging from 0.5 to 16 Mbit/s and fibre access throughputs ranging from 2 Mbit/s to 1 Gbit/s on both a regional and national level, allowing you to increase your collection area. 
Mobilise your clients from all 24 open regions in mainland and overseas French departments, towards the connection of your choice. For each access belonging to a different Ethernet region than that of the department it's connecting to, Orange offers a national extension solution. This collects traffic from an access located in a different Ethernet region to that of the connection.
Do you want to secure your collection?
We will give you access to two distinct connections that will allow you to dynamically organise your flows to ensure continual service to your customers. This solution is made possible by an  Operator Secure Connection (OSC) and two Core Ethernet LAN (CELAN) accesses. Along with this solution, you will benefit from a project manager, who will coordinate production, an improved Service Level Agreement (SLA), and an S1-type Guaranteed Fault Repair Time.
Requirements
Related e-services

A sales rep is at your disposal to present the features and conditions of this offer.
E-services are available 24/7, including eligibility and pricing tools

Online ordering tools and services are available 24/7 for you to place your order and monitor its status independently.

Tools for online reporting of observed malfunctions and real time monitoring of service restoration.

Monthly billing with customized consumption monitoring, suiting the specifics of the offer you subscribed to.
*
l'indication de durée est donnée à titre informatif.
To collect the flows of your business clients, it is necessary to first install your connections towards your Points of Presence. Once they are installed, all you need to do is order the accesses that will connect your business clients' sites by indicating the desired connection for each access' delivery.
Core Ethernet LAN (CELAN) takes advantage of different Classes of Service (CoS) to meet the various usage needs of businesses. Flows are prioritised and processed within Orange's network. Prioritisation can happen in real-time or as each access subscription is chosen.
The throughput of data flows for the "voice" and "data guarantee" classes is assured at any moment. This guarantee is no longer provided if the total amount of voice and data guarantee traffic exceeds the capacity of the connection.
The "voice" class uses all the bandwidth required for its traffic to flow smoothly, and is prioritised over the "data guarantee" class.
The throughput of data flows for the "business data" class can reach the level of the access throughput. Data transfer in the network happens at the rate of access that the network load allows.
A BEC connection can collect both BEC and CELAN accesses. For existing BEC connections, a preliminary operation called the "sharing option" must be carried out on the BEC connection.