Traffic Wholesale (TW)
---
Market a comprehensive fixed-line telephony solution under your own name
Offer your customers comprehensive fixed telephony solutions, including subscription and communications.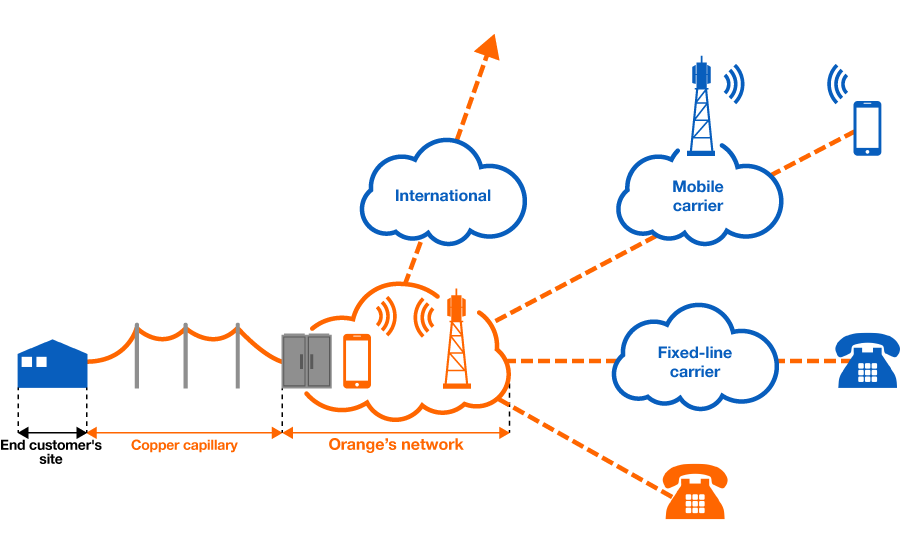 Have all of your traffic routed and managed for you. 
Order digital or analogue Switched Telephone Network (STN) access, via isolated or bundled accesses outside T2.
Gain access to numerous available services, such as call waiting, caller ID, etc.
You can view the reference offer in interconnection and access for the Traffic Wholesale (TW) solution at Orange.com.
Your needs
Do you want to manage Switched Telephone Network (STN) customers without having to worry about the technical aspects?
With the Traffic Wholesale (TW) solution, there is no need to invest in the network or implement an interconnection with Orange. We manage everything, from access to traffic, and ensure that your customers receive the same level of quality as Orange's own end customers.
Requirements
Legal criteria
Be registered with ARCEP (France's telecommunications regulatory authority)
Have signed the General and Specific Terms & Conditions of the Fixed number portability solution
Related e-services
Pre-qualify orders, make quotations

Orders and make appointments

Perform equipment tests and manage signage

A sales rep is at your disposal to present the features and conditions of this offer.
E-services are available 24/7, including eligibility and pricing tools

Online ordering tools and services are available 24/7 for you to place your order and monitor its status independently.

Tools for online reporting of observed malfunctions and real time monitoring of service restoration.

Monthly billing with customized consumption monitoring, suiting the specifics of the offer you subscribed to.
For the Traffic Wholesale (TW) solution, Orange manages the network. This means that you do not have to implement an interconnection or a Switched Telephone Network.
There is also no need to pay the ARCEP licence fee for the numbering resource associated with the prefix, which is not required for the Traffic Wholesale (TW) solution.