Commercial hosting
---
Host your equipment in an Orange Wholesale France data centre
The Commercial hosting solution lets you share Orange's existing infrastructures.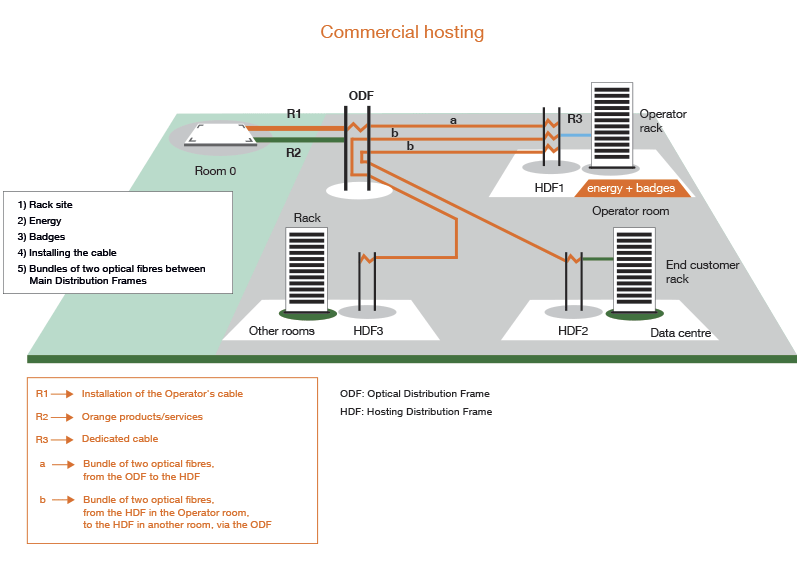 Benefit from a flexible solution that can be adapted to suit the needs of your customers.
Save time thanks to easier hosting in Orange's technical sites.
Get 24/7 access to the equipment in your rack.
Your needs
Do you want to host your equipment in the infrastructures deployed by Orange?
Orange Wholesale France is giving you access to a room entirely dedicated to you. Get an identity badge that gives you free access to your equipment.
The Commercial hosting contract includes the following provisions:
rack site
access badge
energy supply
internal servicing
the fibre optic bundle linking the Operator rack to the Business customer rack
It is your responsibility to install a rack for your equipment and to provide your service by installing your own cable into the relevant site. If you are not able to carry out such works yourself, Orange Wholesale France offers solutions to help you deploy your network based on the services and technologies that your customers need.
Requirements
Related e-services

A sales rep is at your disposal to present the features and conditions of this offer.
E-services are available 24/7, including eligibility and pricing tools

Online ordering tools and services are available 24/7 for you to place your order and monitor its status independently.

Tools for online reporting of observed malfunctions and real time monitoring of service restoration.

Monthly billing with customized consumption monitoring, suiting the specifics of the offer you subscribed to.