Business Ethernet Core (BEC)
---
Meets the needs in superfast broadband of your business clients with the collect of the flows of your business clients towards your Points of Presence
Business Ethernet Core is for Operators who want to create IP service solutions for their business clients, including internet access and private IP network services.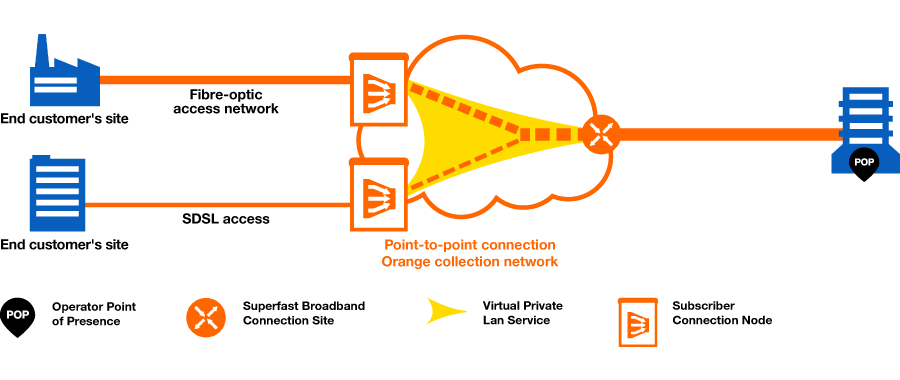 Take advantage of our solid technical foundation in order to provide IP and internet services to businesses of any size.
Anticipate and respond to all of the connectivity needs of your business clients.
Using Virtual Private LAN Service (VPLS) technology, route an access towards one of your connections to benefit from dynamic management of your customers' data flows.
Optimise the use of the Symmetric Digital Subscriber Line (SDSL) bandwidth with increased Ethernet throughput for the same synchronisation rate.
You can view the reference offer in capacity services along with the appendices, consisting of the price list, copper access zoning, and fibre access zoning, at Orange.com. (opens in a new window)
Your needs
Do you want to mobilise your clients from across the area with copper and fibre accesses?
With Business Ethernet Core (BEC), you can transport the flows of your business clients via a shared collection point on your Point of Presence. We offer copper access throughputs ranging from 0.5 to 16 Mbit/s and fibre access throughputs ranging from 10 Mbit/s to 1 Gbit/s on a regional and national scale, allowing you to increase your collection area.
Do you want to secure your collection?
We will give you access to two distinct connections that will allow you to dynamically organise your flows to ensure continual service to your customers.
Requirements
Related e-services

A sales rep is at your disposal to present the features and conditions of this offer.
E-services are available 24/7, including eligibility and pricing tools

Online ordering tools and services are available 24/7 for you to place your order and monitor its status independently.

Tools for online reporting of observed malfunctions and real time monitoring of service restoration.

Monthly billing with customized consumption monitoring, suiting the specifics of the offer you subscribed to.
The throughput of data flows for the "voice" and "data guarantee" classes is assured at any moment. This guarantee is no longer provided if the total amount of voice and data guarantee traffic exceeds the capacity of the connection.
The "voice" class uses all the bandwidth required for its traffic to flow smoothly, and is prioritised over the "data guarantee" class.
The throughput of data flows for the "business data" class can reach the level of the access throughput. Data transfer in the network happens at the rate of access that the network load allows.