Operator Optical Ethernet Collection (OOEC)
---
Offer local network interconnexion and broadband internet access to your business clients with fibre optics
This solution lets you collect Ethernet flows on Orange's Asynchronous Transfer Mode (ATM) network. The Optical Ethernet Collection redirects data from your clients' sites towards your Points of Presence.
This offer is available in 21 regions of France, including around 170 mainland areas, 5 overseas departments and Corsica.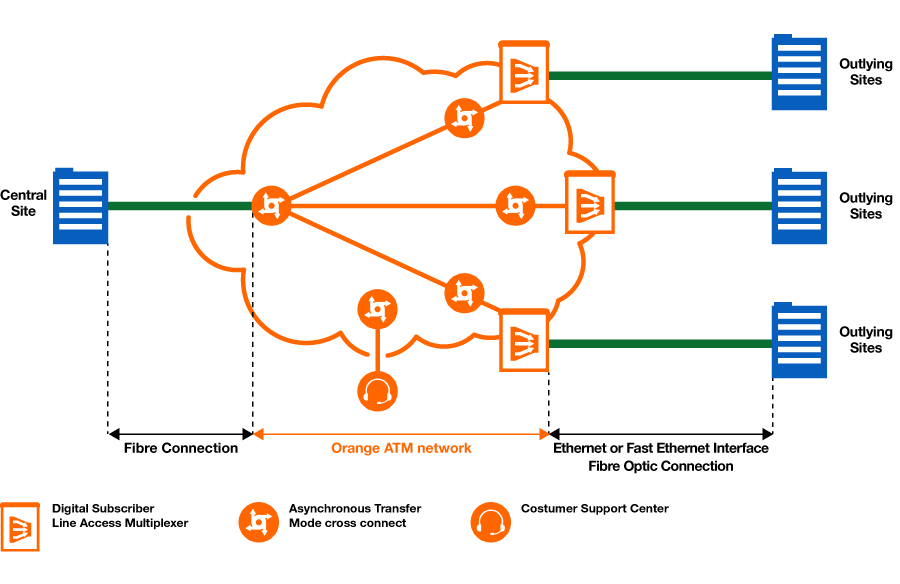 Benefit from the high performance and reliability of Orange's ATM network.
Take advantage of our 24/7 Guaranteed Fault Repair Time (GFRT) extended maintenance option, as well as our S1-type Maximum Service Outage (MSO) solution. These services guarantee a network availability of up to 99.9% of the year.
Benefit from connection to the central site with 5 throughput levels ranging from 100 Mbit/s to 1000 Mbit/s.
You can view the reference offer in capacity services along with the appendices, consisting of the price list, zoning, and fibre access zoning at  Orange.com. (opens in a new window)
Your needs
Do you want to help your clients to increase their throughput?
With Optical Ethernet Collection, you can offer your business clients a solution adapted to the need of the market by combing broadband, Ethernet technology, and competitive prices over an extended geographic area.
Do you want to adapt to your customers' throughout needs? 
The Optical Ethernet Collection solution gives you access to nine levels of throughput transferred on your customer's network, and five levels transferred on yours. Take advantage of the broad range of throughputs offered by Orange and adapt your bandwidth capacities to suit your needs.
Requirements
Related e-services
Collection happens through the interconnection between your clients' various sites, called "leaves", and your Operator site, called the "stem". Data transfer between distant sites happens using Asynchronous Transfer Mode (ATM) technology.
Access to the service takes place at your site and those of your clients, using Service Access Equipment (SAE) provided by Orange Wholesale France via a Service Access Interface (SAI), to which your client's equipment is connected.