Optimum Ethernet LAN
---
Meet your Business Customers' needs in Very High Bandwidth through optic fibre
Optimum Ethernet LAN is a solution for operators who wish to provide level 2 (data transport) or level 3 (managed services) services to their business customers. The Optimum Ethernet LAN offer is based on point-to-point optic fibre over the local loop deployed in parallel to FTTH in less densely populated areas or in low density pockets of very high-density areas (Orange's shared local optical loop and public initiative networks' shared local optical loop operated by Orange).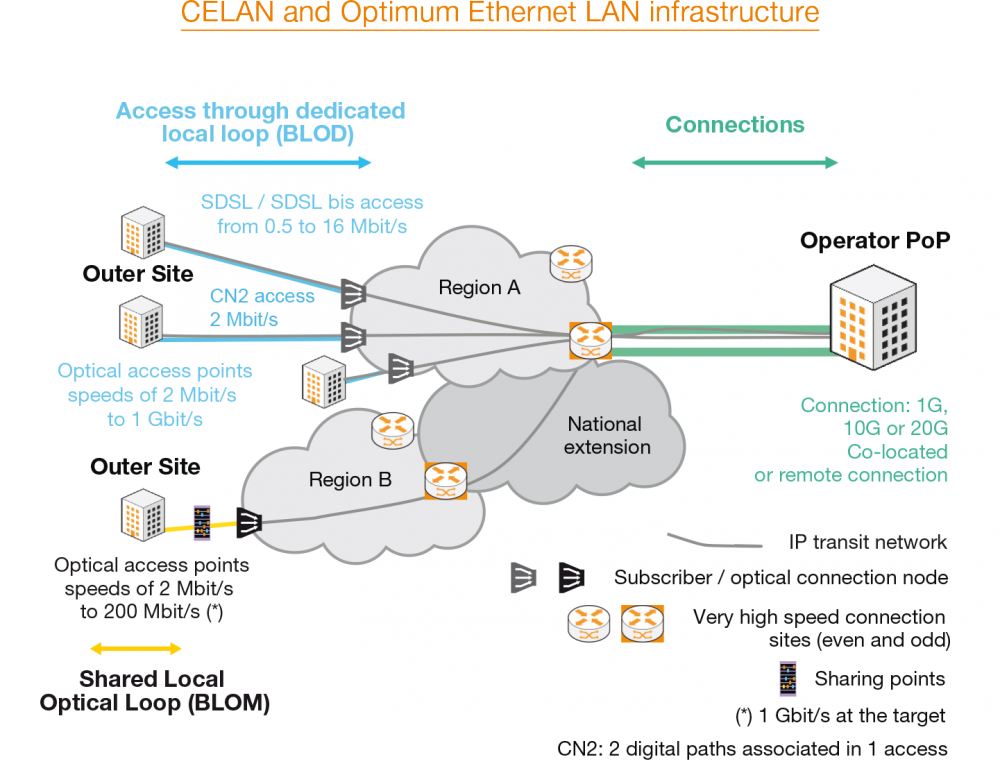 Attractive prices compared to FTTO
A genuine technical platform to provide IP and internet services to businesses of all sizes
Coverage and anticipation of your Business Customers' connectivity needs.
High quality Service through Optic Fibre
Enhanced use of bandwidth with increase speed over the Ethernet network
Compatible with your Core Ethernet LAN network connection points
For further information check our reference offer for capacity services as well as its annexes which include the price list, copper pair access zoning and fibre access zoning at Orange.com.
Your needs
You wish to collect your clients' data over the whole territory through Very High Speed accesses?
The Optimum Ethernet LAN offers data transport services for your business customers' flows through the collection of their data on shared collection points at their operators' point-of-presence (POP).
We offer a wide range of optical access bandwidths from 2 Mbit/s to 200 Mbit/s at regional or national level to broaden your collection area.
We offer 2 levels of services:
Business Data ( intranet/internet data, e-mails)
Data Guaranteed (Videoconference)
Requirements
Related e-services

A sales rep is at your disposal to present the features and conditions of this offer.
E-services are available 24/7, including eligibility and pricing tools

Online ordering tools and services are available 24/7 for you to place your order and monitor its status independently.

Monthly billing with customized consumption monitoring, suiting the specifics of the offer you subscribed to.

Tools for online reporting of observed malfunctions and real time monitoring of service restoration.