Subscription Wholesale (SW)
---
Market a comprehensive fixed-line telephony solution under your own name, including complete management of Orange's Switched Telephone Network (STN) access
The Subscription Wholesale (SW) solution is for fixed-line telephony Operators who wish to offer comprehensive services. They must have subscribed to the Interconnection solution beforehand.
This solution would suit those who offer their services to the general public, professionals, or to small and medium-sized businesses.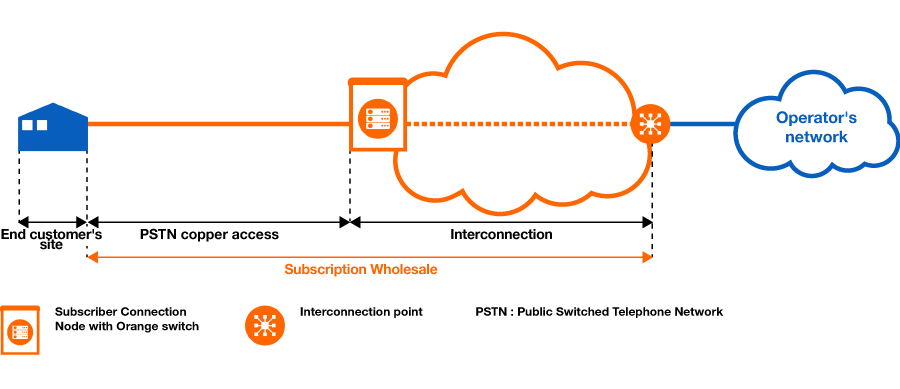 Take advantage of a high-quality telephone network that has proven itself over many years.
Choose additional services depending on your needs, such as Guaranteed Fault Repair Time (GFRT), Direct Inward Dialing (DID), Caller ID, etc.
Choose the appropriate technology for your needs: analogue or digital, via isolated or bundled accesses.
You can view the reference offer in interconnection and access for the Subscription Wholesale (SW) solution at Orange.com.
Your needs
Are you looking to become a telecommunications Operator, but don't have a local Switched Telephone Network on which to connect your end customers? Do you want to offer your customers a telephone access with many options?
The Subscription Wholesale (SW) solution is a regulated solution that lets you access the Switched Telephone Network in order to offer a similar service to that which is offered to Orange customers. To find out more, you can view the reference offer on our corporate website, in the section on interconnection and access solutions.
Do you want to give your customers several telephone accesses at the same address?
The Subscription Wholesale (SW) solution gives you the option of bundling digital and analogue accesses that are isolated to a single address.
Requirements
Related e-services

A sales rep is at your disposal to present the features and conditions of this offer.
E-services are available 24/7, including eligibility and pricing tools

Online ordering tools and services are available 24/7 for you to place your order and monitor its status independently.

Tools for online reporting of observed malfunctions and real time monitoring of service restoration.

Monthly billing with customized consumption monitoring, suiting the specifics of the offer you subscribed to.
For subscriptions to the Subscriber Wholesale (SW) solution, Orange is the allocator of the number provided.