IP Internet Connection
---
Give users better access to internet flows and improve the quality of your content transfer
With IP Internet Connection, you can directly access Orange Wholesale France's national superfast broadband internet connection.
Along with a commitment to quality service, IP Internet Connection offers a large choice when it comes to connection solutions.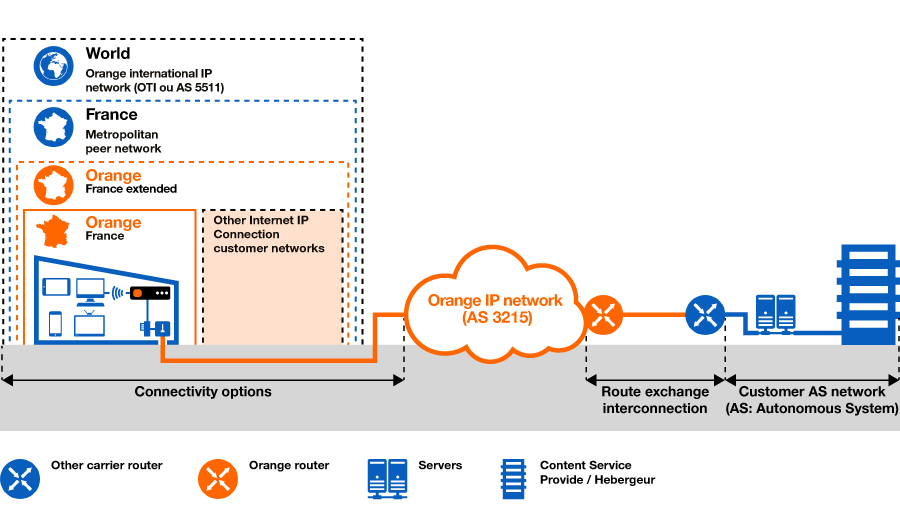 Take advantage of a mesh Backbone Network, secured and supervised 24/7 with a large selection of IP connectivity throughputs ranging from 100 Mbit/s to 100 Gbit/s.
Benefit from our commitment to quality service with our Guaranteed Fault Repair Time (GFRT), Maximum Service Outage (MSO), low rates of bundle loss and reduced latency period, all of which are adapted to the requirements of Internet Service Providers and Content Providers.
Gain access to connection solutions on a case-by-case basis, whether standard or secured, directly or via the Global Internet Exchange (GiX). 
Ensure dual functionality with an IPv4/IPv6 dual stack, and protect against the IT attacks known as Distributed Denial of Service or DDoS (blackhole-style attacks, for example).
Your needs
Do you want direct access to national internet connectivity?
Orange's IP Internet Connection lets you access Orange's national internet connectivity via Orange Points of Presence throughout France, or via public exchange nodes over various kinds of service interfaces offering different throughputs.
Do you want to directly address Orange internet users based in a particular region?
Ensure the highest quality services for your customers with the "mapping" option. Our connectivity solutions feature an option to map routes. This allows a customer connected to an Orange Point of Presence in a particular region to gain access from this point to the routes specific to the relevant area.
Requirements
Related e-services

A sales rep is at your disposal to present the features and conditions of this offer.
E-services are available 24/7, including eligibility and pricing tools

Online ordering tools and services are available 24/7 for you to place your order and monitor its status independently.

Tools for online reporting of observed malfunctions and real time monitoring of service restoration.

Monthly billing with customized consumption monitoring, suiting the specifics of the offer you subscribed to.