Optimum Backbone dark fibre offerings
---
Build an optical backbone for yourself and your customers with our dark fibre rental solutions
Orange has partnered with SNCF Réseau to bring you dark fibre rental solutions through our National and Local SNCF Réseau Optimum Backbone.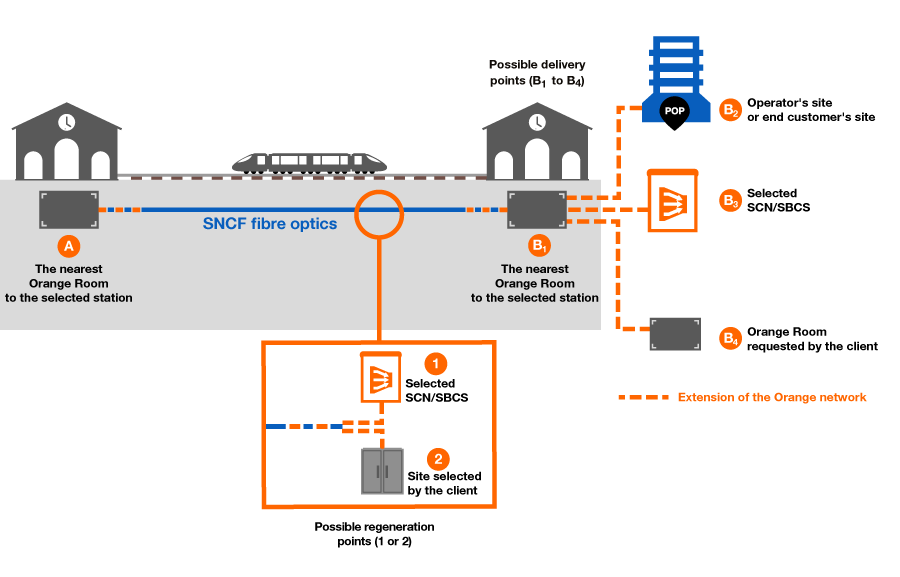 Enjoy the extensive geographic coverage of the SNCF Réseau and Orange fibre optic networks:
      – 4,500 kilometres at the end of 2016
      – 1,500 extra kilometres per year
      – 14,000 kilometres by 2024, serving over 2,000 stations
      – existing or future end points on the Orange Fibre Optic Network
Benefit from a cutting-edge fibre optic network, implemented since June 2011 through the SNCF Réseau infrastructure, tailored to your own uses.
Use multiple possible delivery points thanks to the Orange infrastructure.
Manage your own active equipment and the scalable nature of your network, in terms of throughput.
SNCF Réseau Optimum Backbone solutions comprise:
a National bi-fibre solution with regeneration approximately every 80 kilometres at the expense of the Operator, at selected sites or those requested by the Operator
and
a Local mono-fibre solution covering a maximum distance of 100 kilometres
Delivery points linked by fibre optic cables may be selected in advance or chosen by the Operator.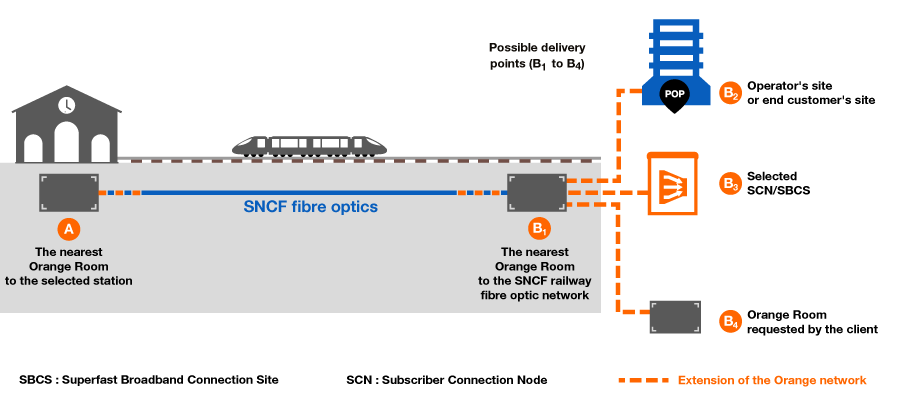 Geographical availability
National and Local SNCF Réseau Optimum Backbone solutions are available in mainland France (excluding Corsica), subject to a feasibility study.
Legal and technical criteria
For delivery to an Orange SCN or OCN, you must have signed the unbundling agreement or the Equipment Hosting in Orange's Optical Local Loop contract.
For delivery to an Orange Room, you must have signed the OLL CEI contract.
For delivery to an Orange SBCS, you must have signed a "dedicated co-location contract" for the delivery of your capacity and activated DSL services. 

A sales rep is at your disposal to present the features and conditions of this offer.
E-services are available 24/7, including eligibility and pricing tools

Online ordering tools and services are available 24/7 for you to place your order and monitor its status independently.

Tools for online reporting of observed malfunctions and real time monitoring of service restoration.

Monthly billing with customized consumption monitoring, suiting the specifics of the offer you subscribed to.
Optical fibres can only transmit digital data over a limited range. The Local solution is designed to cater to connection requirements over medium distances, where no signal regeneration is necessary.
Yes. Where applicable, extensions will be based around existing Orange fibre optic infrastructure in order to reduce lead times and prices
Once you sign the contract, you will have access to SNCF Réseau dark fibre optics in the short and medium term (in shape format), which can be extended over the Orange network. Any such Orange extensions will be explained in the study results.