Equipment hosting in Orange's Optical Local Loop
---
Host your equipment in Orange permises to gain access to fibre optic local loops
Take advantage of Orange's Optical Local Loop and the available infrastructures to develop your services.
We are offering two different services depending on your hosting needs:
Hosting active equipment in a Subscriber Connection Node (SCN) if you are only planning to host equipment in Orange's technical premises
Hosting in an Optical Connection Node (OCN) if you are looking for a private space to create your own Optical Connection Nodes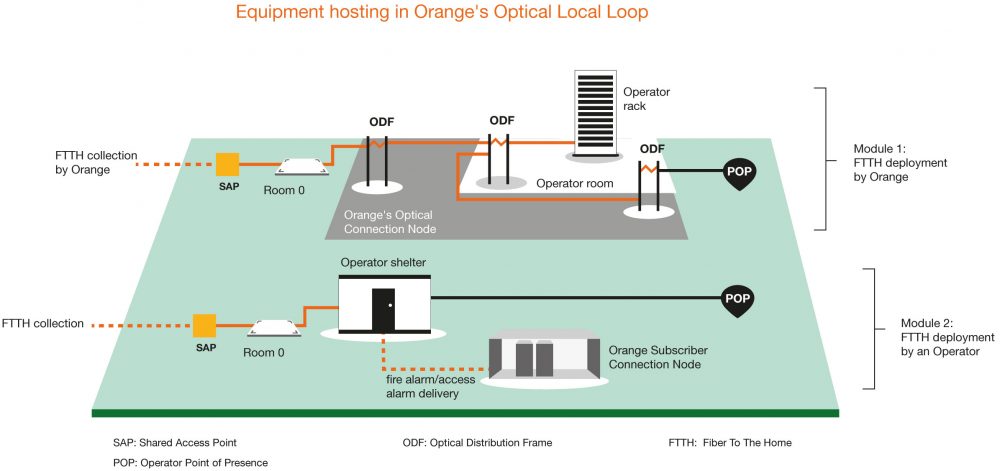 Access all available infrastructures in order to deploy your fibre network.
Use your existing infrastructures for the copper local loop to make the transition to fibre while keeping your costs down.
Request to review the installation options for your Optical Connection Nodes in order to create your private spaces across the many Orange sites.
Your need
Do you want to host your active equipment in the technical premises of Orange's Local Loop?
The equipment hosting solution gives you access to everything you need to provide your customers with a high-quality service.
This solution allows you to order rack sites with the necessary power supply, as well as connection links useful for sending your customers' fibre accesses, and various types of installed cables.
Are you looking for private spaces to create your own Optical Connection Nodes (OCN) that you would like to host in Orange's premises?
In response to your request for private spaces, Orange Wholesale France will look into the solutions for private rooms in its buildings, or for building a shelter on its premises.
Requirements
Related e-services
Orange Wholesale France can meet your commercial hosting needs exclusively in the Orange Optical Connection Nodes (OCN).
When hosting active equipment in an Optical Connection Node (OCN), this solution includes a service that lets you request the transfer of fibre accesses collected on the cable you have installed within the site. Instead of placing a hosting request, simply issue a request for the transfer cable needed to connect Orange's Shared Access Points.
You can request that private spaces be made available to you when expressing your needs to Orange Wholesale France. We will then ask you to choose up to three Orange sites, listed in order of preference.