Access to FTTH lines outside of High-Density Areas
---
Offer superfast fibre optic broadband outside of High-Density Areas to premises where Orange is the Building Operator (BO)
Access the Orange Fibre Optic Network infrastructures outside of High-Density Areas to offer superfast broadband electronic communications service solutions to your customers.
Using Orange's Optical Local Loop, you can expand usage in two different ways:
Rent the individual lines you need to supply your customers
Participate in co-financing in one or several municipalities in order to gain Optical Local Loop usage rights over a period of 20 years
To find out more, read about our Fibre Optic Network.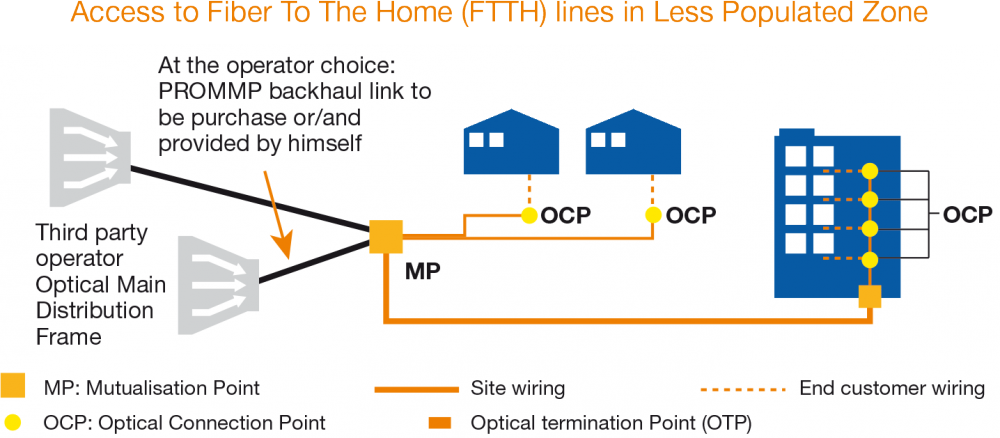 Offer Fibre To The Home (FTTH) access to your customers in buildings where Orange is the Operator.
Get access to a superfast next generation broadband network.
Participate in a co-financing plan that can be adapted to suit your needs.
Possibility to increase your co-financing contribution over time.
You can view the reference offer in access to the end portion of Orange's superfast fibre optic broadband electronic communications lines at Orange.com (opens in a new window).
Your needs
Do you want to offer fibre optics outside of High-Density Areas to customers for whom Orange is the Building Operator?
Participate in co-financing in municipalities or urban areas at a level that suits your needs, in increments of 5%. This is accessible at any time.
Rent individual lines if your customers are spread out over the municipality, and you do not want to participate in co-financing.
Do you want to connect your network to the FTTH network deployed by Orange outside of High-Density Areas?
The two networks are connected via either: each Shared Access Point (SAP) deployed by Orange; or Orange's Optical Connection Nodes (OCN), by accessing the OCN-SAP Connections service available in the solution.
Requirements
Related e-services

A sales rep is at your disposal to present the features and conditions of this offer.
E-services are available 24/7, including eligibility and pricing tools

Online ordering tools and services are available 24/7 for you to place your order and monitor its status independently.

Tools for online reporting of observed malfunctions and real time monitoring of service restoration.

Monthly billing with customized consumption monitoring, suiting the specifics of the offer you subscribed to.
The commitment is at the level of the municipality or urban area, but can be changed in increments of 5%, as defined in the deployment plans published regularly by Orange.
This information is available as soon as the contract has been signed. Orange sends it to all signatories of the Detailed Prerequisite Criteria (DPC) file.