Fibre Optic Connection (FOC)
---
Collect your traffic from the Subscriber Connection Nodes where your equipment is hosted thanks to Orange's optical fibre
Once your equipment has been installed in Orange's Subscriber Connection Nodes (SCN), the Fibre Optic Connection solution lets you use Orange's optical collection to bring your traffic back to your network.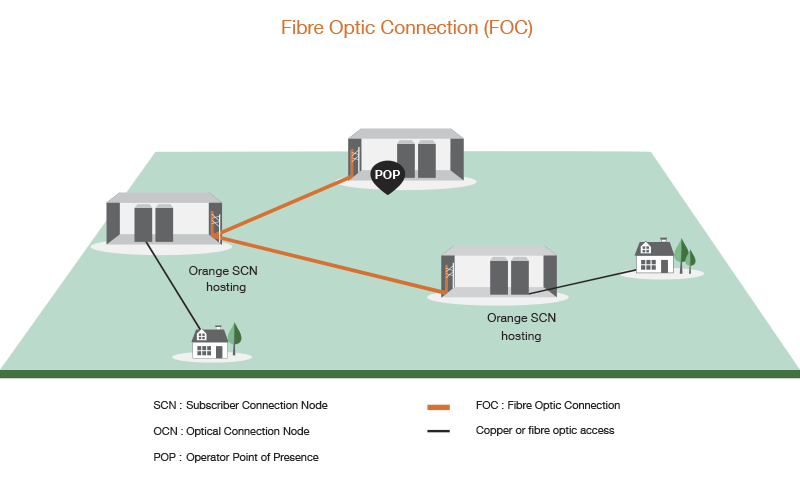 Manage your collection independently.
Maximise your collection throughput rates without deploying your own optical network.
Gather broadband and superfast broadband flows, as well as mobile antenna flows, on a single Orange optical fibre.
Benefit from an extended coverage area.
Your needs
Do you want to collect Orange's unbundled and/or FTTH accesses without having to deploy your own optical network?
The Fibre Optic Connection (FOC) solution gives you access, over an existing Orange optical cable, to a passive optical fibre, also called Dark Fibre. This can be located between two Orange SCNs or OCNs where you are hosted, or between either an Orange SCN or OCN and your POP. 
Do you want to bring traffic to your network while keeping your costs down?
The 20 year subscription rate is fixed and will only change based on the monthly wage index in the telecommunications sector. This allows you to create a more extensive network at a low cost.
Requirements

A sales rep is at your disposal to present the features and conditions of this offer.
E-services are available 24/7, including eligibility and pricing tools

Online ordering tools and services are available 24/7 for you to place your order and monitor its status independently.

Tools for online reporting of observed malfunctions and real time monitoring of service restoration.

Monthly billing with customized consumption monitoring, suiting the specifics of the offer you subscribed to.