Operator Secure Connection (OSC)
---
Secure your optical accesses
Ensure maximum accessibility on your business clients' critical sites by implementing physical security measures on Orange's Optical Local Loop.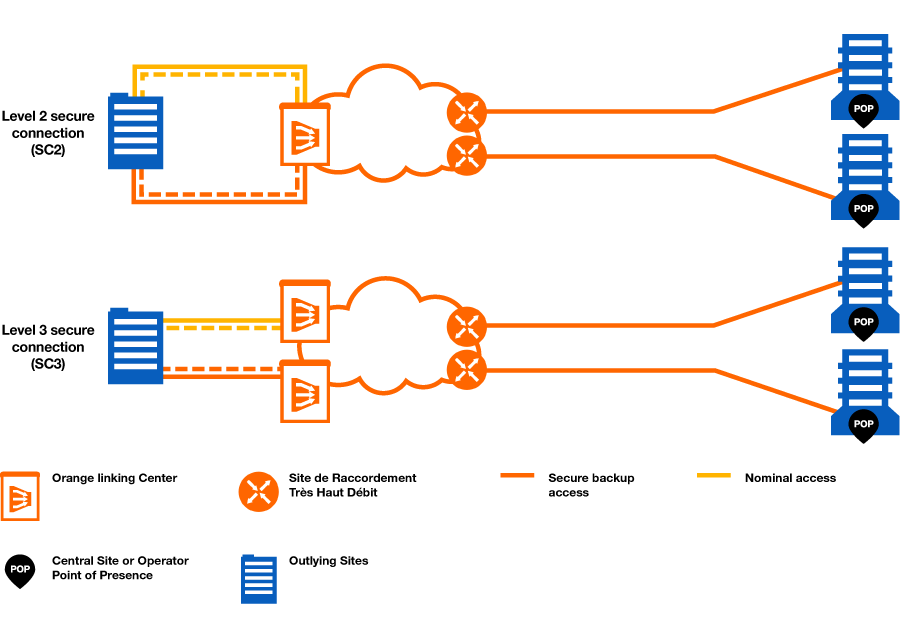 Core Ethernet LAN (CELAN)Use two different optical routes to reach the Orange linking centre of the chosen service.
Benefit from our commitment to improved quality of service on accesses for the following solutions:

Core Ethernet LAN (CELAN)

, 

Business Ethernet Core (BEC)

, and  Operator Optical Ethernet Collection (OOEC).
Take advantage of the flexibility and simplicity of implementing a secure connection.
Increase usage by using this infrastructure for several business services.
Take advantage of an extended service coverage, based on the coverage for Fibre To The Office (FTTO) solutions.
Your needs
Do you want to guarantee maximum service availability to your business clients with optical access?
The Operator Secure Connection (OSC) provides you with everything you need to secure your customers' accesses. This double connection is possible thanks to a second optical route, completely separate from the first.
In addition to this, Orange Wholesale France is contractually committed to restoring your client's connection. In the event that both optical access routes are disconnected, this process can take up to two hours.
Over 90% of our customers prefer the level 3 Operator Secure Connection, which offers two different Orange linking centres for maximum quality of service.
Requirements
Related e-services

A sales rep is at your disposal to present the features and conditions of this offer.
E-services are available 24/7, including eligibility and pricing tools

Online ordering tools and services are available 24/7 for you to place your order and monitor its status independently.

Tools for online reporting of observed malfunctions and real time monitoring of service restoration.

Monthly billing with customized consumption monitoring, suiting the specifics of the offer you subscribed to.
For the  Core Ethernet LAN and  Business Ethernet Core solutions, the feasibility study is ordered with the backup access feasibility study. Since the Core Ethernet LAN backup access study costs 600 euros, the cost for the package is 600 euros with a comprehensive response and reduced timeline.
You can terminate the Operator Secure Connection. Penalties will only be applied if the termination is within the minimum commitment period. This also applies to the termination of accesses.
Please note that termination can only takes place if it is requested by the Operator.
This solution lets you secure the services that you provide to your end customers. Orange is therefore committed to the maintenance, improved Maximum Service Outage (MSO) and improved Guaranteed Fault Repair Time (GFRT) on the Core Ethernet LAN, Business Ethernet Core and Operator Optical Ethernet Collection services.