Connection for specialised sites
---
Connect your sepcialised sites using copper accesses
This solution lets you connect an end-customer or network components, such as base transceiver stations, hot spots, or femtocells.  
Connecting an individual site also gives you the option of connecting the equipment:
of a business client: radars, wind turbines, red lights, call terminals, electric vehicle charging stations
and those of a business client temporarily in the context of a building site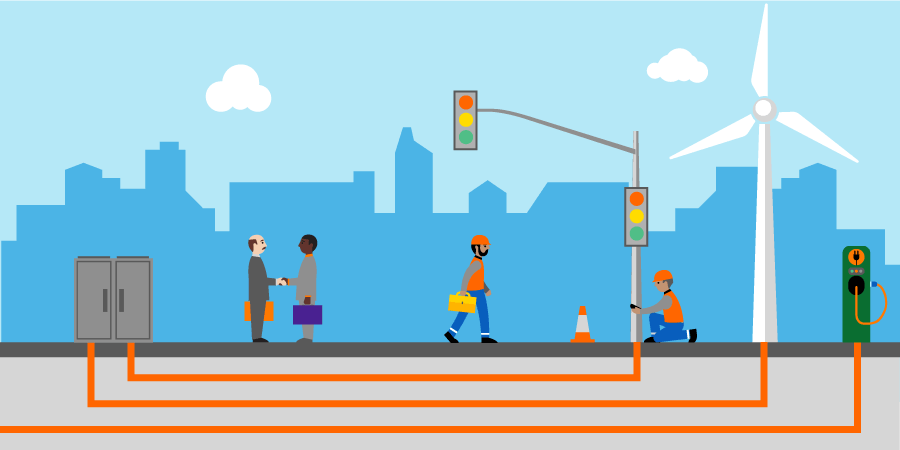 Take advantage of a service that includes four copper-network access offers to connect your individual sites
Choose your connection solution according your budget for work linked to alleviating saturation, or civil engineering construction
Find a solution to anticipate the cost of potential work to connect a customer of one of your end- or business clients with wind turbines, radars, electric vehicle recharging stations, red lights, call terminals, or advertising billboards, or any site of your choosing requiring work or not. 
Your needs
Do you want to connect a specialised site with a copper access?
Orange Wholesale France lets you connect your individual sites that have standardized postal addresses whether you have the designation number (DN) or not.
We carry out a connection study and provide you with all the information you need to order your access, as well as a proposal for establishing a quote in the form of a Notification Sheet. A quote may be established if the need for equipment work is detected.
Following that study, you will be able to place your orders if the results permit, and if applicable, subject to the acceptance of your quote in the event of equipment work.
Requirements
Related solutions

A sales rep is at your disposal to present the features and conditions of this offer.
E-services are available 24/7, including eligibility and pricing tools

Online ordering tools and services are available 24/7 for you to place your order and monitor its status independently.

Tools for online reporting of observed malfunctions and real time monitoring of service restoration.

Monthly billing with customized consumption monitoring, suiting the specifics of the offer you subscribed to.
The notification sheet contains the information necessary to order your access connections, namely:
 Notification or confirmation of the standardized postal address of the individual site
 Indication of the Network Termination Point of the future pair(s) of copper wires
 Identification of the Subscriber Connection Node for connection of the future pair(s) of copper wires
 The calibre and the length between the identified Distribution Point and the Subscriber Connection Node (SCN)
 Availability in light of the number and type of pairs of copper wires, with an indication of the Distribution Point on which each pair of copper wires could be delivered
 The necessity or not of carrying out desaturation work or a small infrastructures operation on the local loop to provide access to the individual site in question via the proposal of a quote