Business DSL (BDSL)
---
Develop access solutions for your business clients
Business Digital Subscriber Line (BDSL) is an internet access and collection solution designed for your business clients. Develop your internet access solutions via a large throughput range across the whole of France, Corsica and the overseas departments, excluding Mayotte.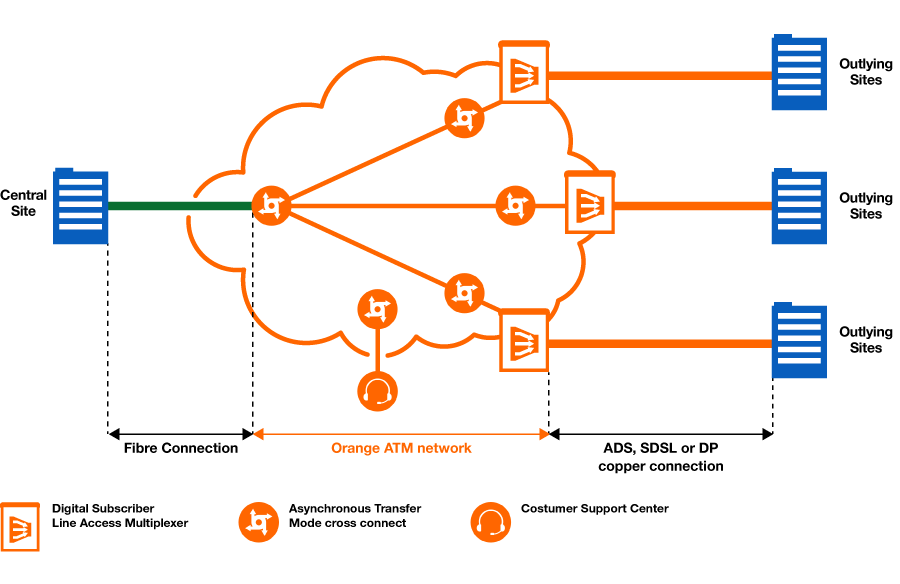 Benefit from guaranteed and symmetrical throughputs, including Orange's commitment to the Guaranteed Fault Repair Time (GFRT) and the Maximum Service Outage (MSO).
Take advantage of a Digital Path (DP) connection when the outlying site is not eligible for Symmetric Digital Subscriber Line (SDSL) – 4 twisted pairs of around 4km at 2 Mbit/s.
Direct delivery to your Point of Presence or Orange's Point of Presence.
Share several Orange Wholesale France products on the central site connection, such as: Business Digital Subscriber Line (BDSL), Digital Subscriber Line Asynchronous Transfer Mode Collection (DSL-ATM Collection), and  Operator Optical Ethernet Collection (OOEC).
Benefit from over-booking free of charge. With this option you can optimise the use of 100, 120, 240 and 500 Mbit/s connections. 
You can view the reference offer in capacity services along with the appendices, consisting of the price list and the copper access zoning at Orange.com. (opens in a new window)
Your needs
Do you want to connect your business clients to a central site?
Following a technical feasibility study carried out by Orange Wholesale France, the Business Digital Subscriber Line (BDSL) solution lets you connect your clients according to the resources available at the outlying site.
Connect your central site with the Asynchronous Transfer Mode (ATM) interface or the optical Gigabit Ethernet (GE) interface. Once the interface has been chosen, select the access type according to your eligibility for throughputs ranging from 0.5 Mbit/s to 8 Mbit/s.
Requirements
Related e-services

A sales rep is at your disposal to present the features and conditions of this offer.
E-services are available 24/7, including eligibility and pricing tools

Online ordering tools and services are available 24/7 for you to place your order and monitor its status independently.

Tools for online reporting of observed malfunctions and real time monitoring of service restoration.

Monthly billing with customized consumption monitoring, suiting the specifics of the offer you subscribed to.