Provision of Preliminary Information about Orange's Local Loop Infrastructures
---
Get the information necessary to deploy your network
Gain a competitive advantage by using information supplied by Orange Wholesale France to develop your business.
Study the Orange Copper Local Loop and Orange Optic infrastructures and the collection network for our Subscribed Connection Nodes (SCN) to prepare for your roll-outs with Orange Wholesale France offers.
The supply of prior information to the Orange Local Loop includes several services on a regional scale or the scale of a regional transmission zone or the scale of one or more communes in the same department, grouping together the following data:
General information
Maps – Presence of Subscriber Connection Inter
Node Fibre-Optic links
Equivalent dwellings at the address
OCN hosting in Orange SCNs
Equivalent access to businesses
Get general information and mapping data regarding Orange's Copper Local Loop.
Prepare your  Fibre Optic Connection orders at the Regional Transmission Area (RTA) level.
Evaluate the number of potential fibre accesses to deploy for each municipality within a department.
You can view the reference offer in the Provision of Preliminary Information about Orange's Local Loop Infrastructures at  Orange.com.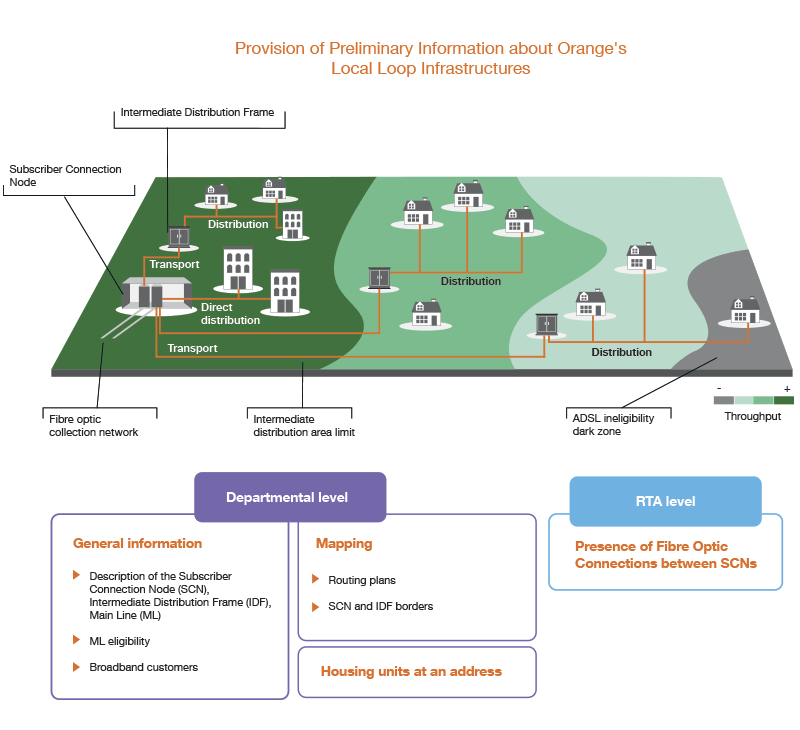 Your needs
Do you want to be able to respond to spatial planning calls for tenders?
Respond to calls for tenders using the information provided by Orange Wholesale France about its Local Loop infrastructures.
For each department, Orange Wholesale France will inform you of the broadband eligibility of the Main Lines (ML), and give you a map of borders for the Subscriber Connection Node (SCN) and the areas served by the Intermediate Distribution Frames (IDF).
With this information you will be able to offer more competitive responses to calls for tenders.
Do you want to know the names of all the Subscriber Connection Nodes (SCN) and whether they are connected via Orange's optical infrastructures, in order to prepare your 

Fibre Optic Connection (FOC)

 orders?
The "Information about Fibre Optic Presence" service offers you an Excel file with a list of all the Subscriber Connection Nodes (SCN) at the level of a Regional Transmission Area (RTA), as well as the optical connections between them. In addition, a PDF file containing a diagram of the point-to-point optical physical media between the Subscriber Connection Nodes (SCN) will be provided.
Would you like to know if you can be hosted in Orange OCNs? 
 "OCN hosting in Orange SCNs" gives you the facts (feasibility, pricing, etc.) responding to your need
Do you need to assess the number of potential Fibre To The Home (FTTH) or Fibre to the Business (FTTB) access points to be deployed for each commune in a département?
Estimate the number of homes at an address with the "Equivalent Dwellings at the Address Information" in order to determine the number of potential Fibre access points. With the "Company Equivalent Access Information", estimate the potential fibre access points for companies
Requirements
Related e-services

A sales rep is at your disposal to present the features and conditions of this offer.
E-services are available 24/7, including eligibility and pricing tools

Online ordering tools and services are available 24/7 for you to place your order and monitor its status independently.

Tools for online reporting of observed malfunctions and real time monitoring of service restoration.

Monthly billing with customized consumption monitoring, suiting the specifics of the offer you subscribed to.
If you would like to know the availability of the Fibre Optic Connection (FOC) solution, you must order an FOC feasibility study between two Subscriber Connection Nodes (SCN), or a routing study for several SCNs.