Mobile Ethernet Core 2 (MEC 2)
---
Connect all of your mobile sites to your central sites via Orange's Ethernet network
This solution concentrates your antenna sites' Ethernet connections on your central sites, with delivery to 24 collection regions in mainland France and within overseas departments.
Based on fibre optic or radio transmission technology, MEC 2 already has more than 10,000 connected antenna sites that are benefiting from a virtually unlimited increased throughput, thanks to the majority use of fibre optics.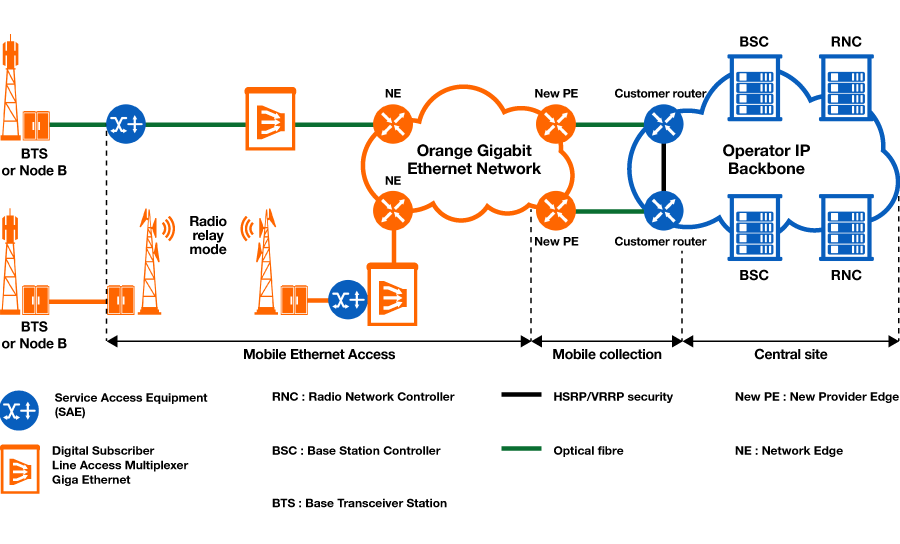 Take advantage of an extended coverage area, with over 36,000 open municipalities.
Benefit from engineering based on the largest fibre optic network in France.
Get a highly flexible solution that lets you transport all types of mobile flows, including 4G+.
Benefit from maximum security thanks to a double connection of central sites.
Your needs
Do you want to build your own sustainable network?
Fibre optic or radio transmission connection is carried out using a tried and tested production process, ensuring a solid and sustainable structure.
Do you want to have a scalable network?
With Mobile Ethernet Core 2, throughput is guaranteed to increase remotely within 14 days. In addition, you will benefit from virtually unlimited increased throughput thanks to fibre optics.
Do you want to secure your connections?
We guarantee maximum security with a double connection at the central site, reinforced by two distinct pathways.
Avec Core Ethernet Mobile 2, la montée en débit se fait à distance dans un délai garanti de 14 jours. De plus, vous bénéficiez d'une montée en débit quasi illimitée grâce à la fibre optique.
Requirements
Related e-services

A sales rep is at your disposal to present the features and conditions of this offer.
E-services are available 24/7, including eligibility and pricing tools

Online ordering tools and services are available 24/7 for you to place your order and monitor its status independently.

Monthly billing with customized consumption monitoring, suiting the specifics of the offer you subscribed to.

Tools for online reporting of observed malfunctions and real time monitoring of service restoration.